Professional resume writing service
Made in Canada by PhD & Certified Resume Writers
Stand out with a Branded Resume & LinkedIn profile. Get through the Applicant Tracking System (ATS), impress employers and earn more doing what you love. Blazing fast 1-on-1 client support. Custom Resumes. 60-Day Interview Guarantee. Our Google Reviews
Have a question? Contact us at 1-877-797-3380 or [email protected]. For local directory click here
Order a Premium package and receive a 10% discount. Use coupon code: CONCEPT. Included 60-Day Interview Guarantee and 100% Satisfaction Guarantee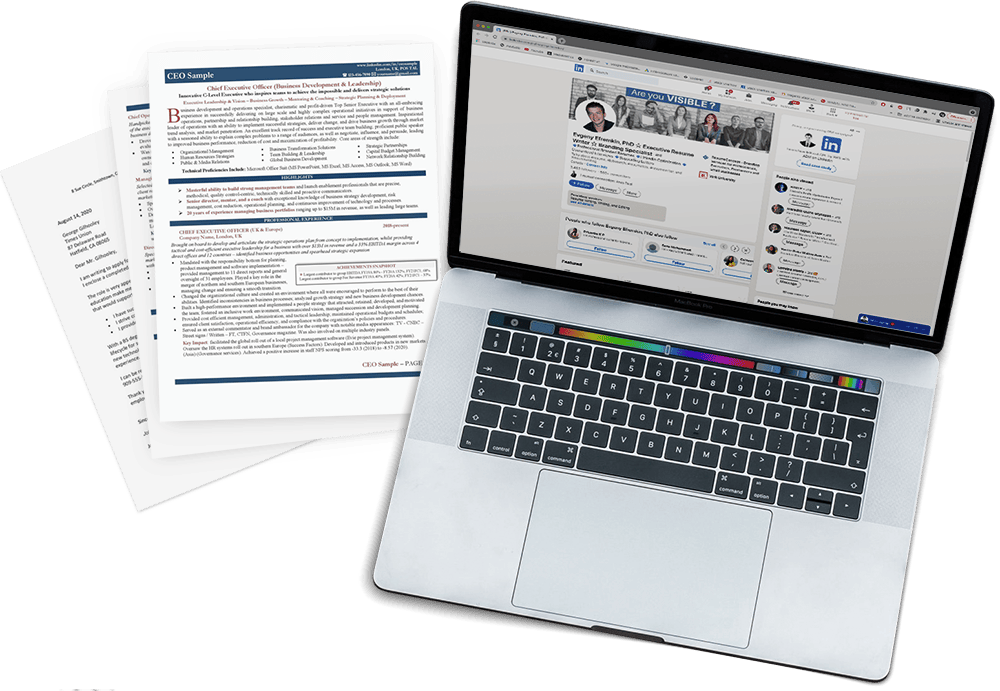 Choose your professional branding package
These packages are designed for high-performing professionals and executives who are serious about maximizing their professional potential.
Or choose one of our functional Career Level pack and get resume from executive cv writers
98% of our clients get multiple interviews and land better, higher paying jobs within 60-days
Professionals & Trades (less than 10 years of experience). Starts from $249
Managers and Consultants OR 10+ years of experience. Starts from $299
Directors, C-Suite, General Managers, PhDs, MDs. Starts from $399
100% Satisfaction & 60-Day Interview Guarantee
Your Professional Branded Resume is backed by our double-duty 100% satisfaction & 60-day interview guarantee. If you are not satisfied with your resume, we will work with you until you are fully happy with the product. However, if you are satisfied but do not get an interview within 60 days, we will rewrite your resume for free.
Place an order. We accept PayPal, E-Transfer, Visa, Master Card, AMEX. We offer a split (50%) payment option. For the e-transfer option, direct your funds to [email protected]
We ask you to fill out a short form and upload your old resume. No resume? No problem! We will send you a different form or will schedule an over-the-phone interview.
Get your new product within the next 1-4 days in WORD, PDF, and Plain Text formats. Confidently apply for your dream jobs and get multiple interviews within 60 days. Guaranteed.
If you have any further questions, please do not hesitate to contact us. Also you can check the quality of your current resume for free.
What our customers are saying about our Resume Writing Service
We built Professional Branded Resumes for 1900+ professionals, senior managers and C-Level Executives. When we asked our clients for their honest experience working with us, here's what they had to say.
I was referred by a friend who was very happy with this company doing his resume, and no doubt so was I. I got a quick response with what is required to create a successful resume, and just a couple of days after I sent an email, voila, my perfect resume arrived, and I got my first interview for the desired position the same day as I submitted my new resume, I am very happy with a result and I look forward to getting that new position I was aiming for!
Absolutely wonderful experience from information stage to delivered product. Eugene was very helpful and answered all of my questions. Process was quick but thorough. I recommend this service to any professional looking to get a head start in pursuing their career, whatever it may be.
Resume Concept helped me get my foot in the door for the job I really wanted, I knew that I would be great for the job I just needed an opportunity to show that to the interviewing manager. Resume Modern professionals gave me all the guidance and the support I needed to get me in front of the interviewer and I took it from there. Their interview coach brushed up my interview skills and gave me the tools and confidence to go in there and walk out with a big smile knowing that I did my best. Thanks, you to everyone at Resume Concept for helping me score my dream job!! Highly recommended!
I would definitely recommend you!Awesome services. Very professional and prompt delivery of the product. I especially liked the social media features as well. I would definitely recommend you!
and 100+ review with five star in Facebook and Google