In today's labor market a Professional Branded Resume or CV will give you the necessary edge over competition. Below you will find Resume Examples of unique and high-impact professional resumes samples, including Sales Manager, Operations Manager, Chief Executive Officer, Chief Financial Officer, Executive Director, Mechanical Engineer, Programmer, Data Scientist, Chef, System Administrator, Business Analyst, Software Developer, IT, UX Designer, Software Developer, Marketing, Nursing, Graphic Designer, Pharmacist, Teacher, Project Manager, Civil Engineer, Accountant. The effectiveness of our style of resumes can be judged by the public testimonials of our clients. Would you like to know if your resume meets professional and industry standards? Get a complimentary resume review here.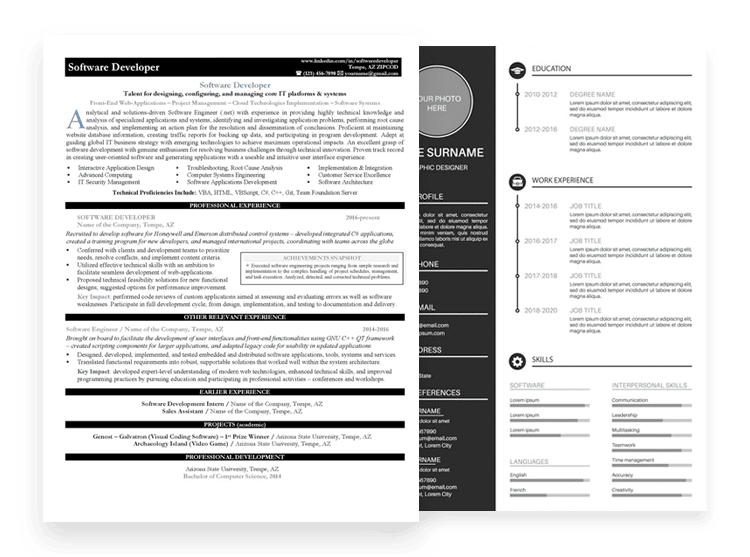 The Difference between Professional Branded Resumes and Templated and Graphic Resumes one can find online
Templated resumes seems to be visualling appealing at first, but they do not work because:
the Applicant Tracking System cannot read boxed in (templated) documents. Thus, your resume will not get through the ATS and will not move to the next stage in the HR funnel
ATS prefers Word or PDF file without templated boxes.
HR personnel prefers Professional Branded Resumes, as they are trained to give preference to such documents.
last but not least, there is a reason the templated, graphically pleasing resumes cost $5-$20 and Professional Branded Resumes price range from $200 to $2000.